---
LEVY Show Service is a full-service trade show, event designer and coordinator. We specialize in our customer service, event decorating and custom exhibit design. We pride ourselves on the innovative ideas and creative style that we bring to every event. At LEVY Show Service, we believe in building strong relationships with our clients by striving to meet their every need and exceed their every expectation; thus resulting in repeat business.
ABOUT US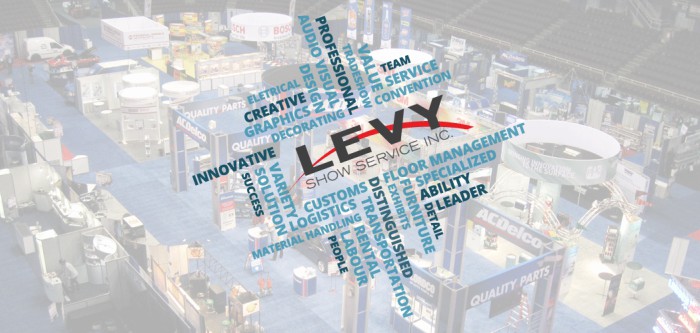 ---
From Concept to Completion
At LEVY Show Service, our 360 degree approach to service means that your needs are covered from Concept to Completion. By offering a full range of services, we can assist right from day one of pre-planning, throughout the event, to the final day of take down and clearing of the venue. Our experienced team works closely with you to expand on your vision and follow your project through to completion. By taking care of all the necessities of your event, including design, set-up, equipment rentals, shipping, dismantling, packing, and loading, we ensure your event goes smoothly.
HOW WE SERVE YOU
A few words from our valued clients
---
Stephanie Gelinas
Squirrel Systems
,
On behalf of the Squirrel Systems we would like to thank you and the LEVY team for your superior customer service at the BC Foodservice Expo. Dave Halstead has participated in BC tradeshows for many years and was utterly impressed with the level of detail taken and the readiness of the booth when he and Tim Dumais arrived to set up on Saturday morning. Your extra efforts do not go un-noticed as they were able to complete our booth set-up in record time and head home to enjoy the rest of the day. We look forward to working with you and LEVY again at our next tradeshow.
Glenn M. Reighart
Meetings and Conventions National Association of School Psychologists
,
Having had the pleasure of partnering with LEVY for the last 15 years, I can unequivocally attest to their being exceptionally dependable, efficient, responsive, proactive, and cost conscious. LEVY consistently goes above and beyond normal industry standards to provide outstanding service to both my organization and our exhibitors, who continually rate LEVY extremely positively in post-show evaluations. From incredibly in-depth planning processes all the way through complicated on-site executions, LEVY always delivers! Including LEVY as a trusted part of my convention implementation team truly makes my job much easier throughout the entire process, each year. I can't imagine working without them."
Jessica Tamasi
Conferences & Exhibits JADPRO LIVE
,
LEVY is as good as it gets ... they are a trade show managers best friend. They never miss a detail and think of the little things that you might have forgotten or overlooked. But,the best part about LEVY honestly, is their customer service. It's not just the nice people behind the desk that deal with the paperwork - where they stand out is on the show floor. They know my exhibitors, call them by name and have taken the time to get to know them When I get calls from other decorating companies hoping to offer a proposal for my show I always tell them ... I'm with LEVY until they tell ME they no longer want to do my show. I'm a LEVY lifer!
Envisioning Events of the Future
"What started out as a rendering of our Post Covid-19 Exhibition Concept became reality, creating a safe live demonstration.
It was an honour to be a part of this important industry initiative, alongside the Vancouver Convention Centre and valued local industry partners; featuring our very own Betty Luong and David Hay!"